Our History
Our History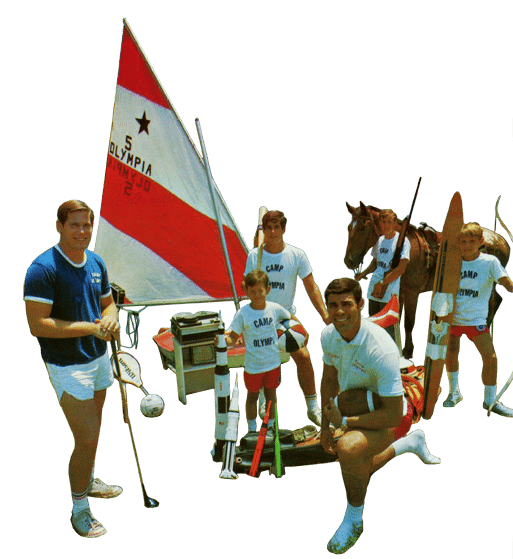 University of Texas All-American football players, Chris Gilbert and Corby Robertson, Jr., established Camp Olympia in 1968. Their dream was to build the best camp in the world. Their commitment to excellence in all that they do reflects on the growth and development of what has become a premier camping facility and program that is second to none. Camp Olympia has grown to become a global camp with children from all over the world joining Texas kids for an exciting and positive camping experience. There are no other summer camping facilities or programs that can match the diversity and excellence found at Camp Olympia. Both Chris and Corby are pleased with the history of camp and are excited that Olympia now has its third generation of campers enjoying camp.
Michelle and Cody Mauldin have served as the Girls' Camp and Boys' Camp Directors at Camp Olympia for over 15 years, being invaluable leaders to campers and counselors alike.  The Mauldins are recognized by their peers as leaders in the camping industry, having served as officers in the Camp Owners & Directors Association (CODA) and Camping Association for Mutual Progress (C.A.M.P.).  Michelle started as a camper at Olympia, and both Cody and Michelle were counselors at Olympia prior to joining the full-time staff.
Debbie Stubblefield, Olympia's Administrative Director, also brings experience and a passion for Olympia having started as a camper at age 7 and worked as an Olympia counselor.  She is dedicated to providing thousands of children with an outstanding camp experience at Camp Olympia. She joined the full-time staff in 2004 as the Public Relations Director and has been integral in the growth of camp through the years.
Olympia is blessed to have such an established leadership team.  Additionally, the year-round staff of over 20 dedicated individuals plan and prepare for your child's camp experience. Our food service, maintenance and administrative staff go the extra mile to make Olympia the best camp in the world. Many of these people have been with Olympia for over 15 years.
Last, but certainly not least, are the thousands of campers and counselors who have attended Camp Olympia since 1968. Olympia campers and counselors have become leaders in our communities and the world. Many are renowned individuals who remember their Camp Olympia experience as one of the highlights of their life.
Camp Olympia is proud of its history and looks forward to an even brighter future.